Peechur galore... :)


finally! i can load pics! yahooooo :)
I'll let the pics talk kung ano pinaggagawa ko sa mga araw na hindi ako nagbblog...
21 October
. Galle with Mommy Aspe and Chekabudels :) haha. Pasaway shots sa Neoprint booth :P
Posted by Hello
ayan, matinong mga tao na kme dito wahehe :) kunwari :P o diba, lakas trip magpa-neoprint ever!
Posted by Hello
26 October
. Galle with Nix, Cha and my sis, Joey (and yes, she's the youngest among us) wahehe. :) perky? Watched a movie lang, and then pics, stroll. and oh yeah, we stole the number from mcdo (ung bnbgay pag mag-aantay ka ng order..) haha. im bad =P
Posted by Hello
30 October
. Whattabarx Reunion (supposedly) haha. :) pero kami lang. Jenna, Jon, Cha, Donna and Mines :) Fun Fun Fun!! :)
Posted by Hello
another one.. heheh! ganda! :) LOL conceited! sobra! :)
Posted by Hello
Same day. Aspe (leftmost) arrived after our "pictorial". Nagpaka-vain pa kme sa studio.. kapal ng muka namen haha. we took dozens more of pictures! wahaha!! :) astig no? :) [L-R, Top-Bottom: Aspe, Jenna, Jon, Donna, Mines, Cha2] Grabe na ito!

After nun we left na.. hinatid lang namin c randy and mines tapos overnyt samen c aspe. :) hehe. eion. tapos.. uhmmmmm ...ano pa ba... ahh!
Nov. 1
! hehe. shmpre sementeryo galore. :)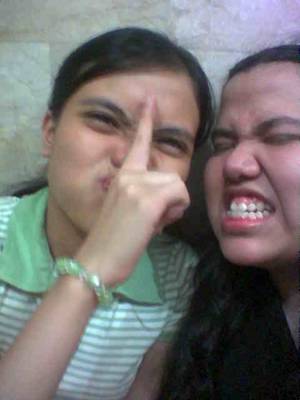 Me and my sister. We give a whole new meaning to PASAWAY. Fooling around at the cemetery. haha. We were supposed to be quiet, ryt? haha :)
Posted by Hello
ndi ko makita ung isa. sobra na to. conceited ko no? wahahe. naaliw? :) cge. til next time. sensha na panget tlga aku. takpan nio nlng muka ko. wahaha. :)