as promised
wow. im such a procrastinator. (tama ba un?) anyhoo. i was supposed to blog as soon as i got home last night..well this morning.. but i got too deym lazy. so its only now that im gonna spill stuff about the debut. we arrived there at around 9 if im not mistaken. talk about late. the party started 7pm. haha. but not a lot of things happened naman so its fine. they just started dinner that time.. my cousin was so radiant that night, im not used to her being too girly eh.. so un. she was wearing a yellow gown. ganda :) she was even wearing a tiara. i asked my mom nga how come she didnt let me wear a tiara! haha. nagreklamo? i didnt get to take her pic na naka-gown eh.. too bad. i have a pic of her naman when she did a taekwondo thingy:
the debutante.. :) she had an taekwondo thingy.. and she was still wearing her crown!! I found it sooo cute! lalng.. astig tignan e :)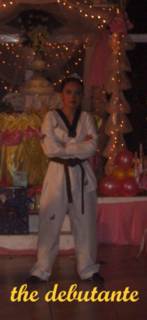 Copyright PrincessJenna07
anyhoo. i bumped into some friends and busmates nun high school. they make me feel kinda old.. rar. i saw khrista and jasmin (my batchmates..). they were included in the 18 candles [the well-wishers].. weird huh? we're cousins and we're not really close. erm, okay. anyhoo. i saw my busmates din!! (rar, i miss my bus.) i saw mae-mae, pacheng, riva and joy. unfortunately me and my sis had to sit at a far, far away table coz limited lang seats e.. so i didnt get to chitchat with most of them. me and my sis sat with riva and her mom. anyhoo.. so there was the usual 18 thingamajigs. then i sat with my busmates na :D lalng.. chitchatted a bit and stuff.
thankfully, before i left, i had the chance to grab 3 of em and have a pic taken!! :)
Me and my busmates before I left :) We're just too cute. We're an all-black ensemble! hehe. And yes, they are actually all high school studes. I feel old. Damn. But I still look like one of them right?! :) Kammonnnn!! :D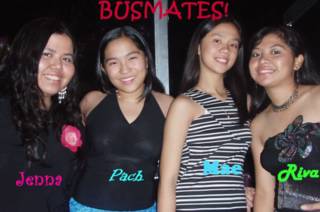 Copyright PrincessJenna07
there. i guess that's it. i went home. stayed up till 2 and slept. ho-humm.
now i have to start with my hw. swear.